Security Information
---
In order to use the Reporting Center site, you must use Internet Explorer, version 6.0 or greater, Firefox, version 2.0 or greater, Chrome, version 1.0 or greater, or any compatible web browser with JavaScript enabled. Whether your browser has 40 bit or 128 bit encryption, your data is protected automatically at the 128 bit level because of the Global Server Certificate that is installed at our site. This certificate can convert 40 bit browsers, while communicating with our site, to 128 bit level access. This prevents your personal information from being read by others on the Internet while it is being transmitted between your Web browser and the Reporting Center Web site. We recommend that you use the Mozilla Firefox 2.0 or Microsoft Internet Explorer Version 6.0 or Google Chrome, or later versions. Browsers typically store/save pages displayed on your monitor to your hard disk. This can allow others to see your personal information if they have access to your machine. When you are operating in the SSL mode, this automatic saving or caching can be turned off. You should verify caching is turned off before using the Reporting Center.
Click TOOLS in Firefox and choose Options. Then click the tab labeled Advanced. Then the cache option. Change the Memory Cache and Disk Cache settings to zero.
Click VIEW in Microsoft Internet Explorer and choose Options. Then select the tab labeled Advanced and click the button labeled Cryptography Settings. Be sure that the box labeled "Do not save secure pages to disk." is checked.
Click the
(More) icon in Chrome. Then click More tools. Select Clear browsing data. In Time range box select All time. Select Browsing History, Cookies and site data, and Cached images and files check boxes. And select the CLEAR DATA button.
User Responsibilities
While the National Finance Center works hard to protect your privacy, you also play a role in protecting your personal information. There are a number of steps you can take to ensure that your online experience on the Internet is safe and secure.
Never leave your online session unattended.

Your Password is the key to the privacy of your personal data, so don't give your Password to anyone. If there is a chance it has been compromised, change it immediately .

If your computer is shared by others, clear your browser's memory and disk cache and shut down your browser. This will remove any information viewed from the web site that is stored on your system.

After you are finished conducting business on our Web site, log out before going to other Internet sites.
Logon Warning Banner
A warning dialog box will be displayed when you connect to the Reporting Center site. Before you can logon, you must acknowledge the dialog box by clicking the 'OK' button. The purpose of this box is to protect both you and the National Finance Center. It fortifies our ability to identify unauthorized access attempts. We apologize for any inconvenience, but we hope you agree that one extra click is a reasonable price to pay for increased security. If you have a Reporting Center User Id, or have signed up for one, you are authorized to access the system.
The dialog box looks like this: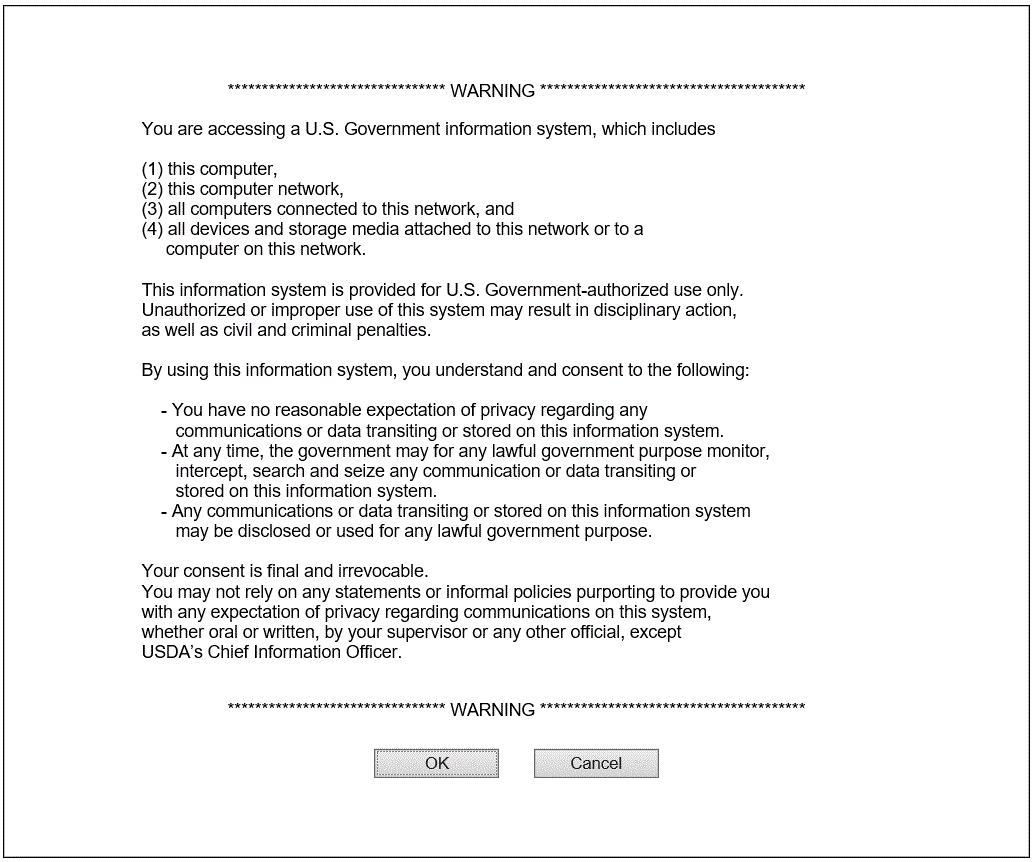 If you have a User Id and Password for NFC Reporting Center use, you are authorized to access the system.